Guest Bloggers: Mike & Ann Mara
Kijabe, Kenya, is a small village situated about an hours drive from the bustling capitol city of Nairobi. The main road out of the city winds its way up over 8,000 feet elevation along the rim of the Great Rift Valley. As one slowly ascends in elevation, the views to the African plains below are simply breath taking! The turn off to Kijabe begins a slow and twisting switchback down the edge of the escarpment for four kilometers, on a pothole filled road towards the village. The area here is rich in foliage and smells a lot like the damp moss you find in Ireland! It is not uncommon to encounter troops of brash baboons and colobus monkeys as you approach the village, in addition to the usual cows, goats, donkeys, and dogs.
Our family has committed to working and living here for at least five years. We arrived in Kijabe almost two months ago after two years of preparations and planning. Having met each other in Tanzania in 2001, we had hoped and prayed that God would call us back to this part of the world. One cold December evening in front of a roaring fire, we responded to God's prompting and committed to long-term overseas missions. Soon thereafter, we sold our house in Bend, our cars, furniture, and belongings, and left behind wonderful friends, family and comfortable familiarity. Our work here is to come alongside the mission of Kijabe Hospital "to glorify God through compassionate health care provision, training and spiritual ministry in Jesus Christ."
About the Hospital:
Missionaries from the Africa Inland Mission first established the Kijabe mission station as a mission outpost in 1903. From its earliest days, it was a center for training and medical and spiritual care for the surrounding community.
Due in part to the high quality of health care provided and the compassionate mission of the hospital to treat any patient, the hospital grew quickly and has become a centre of excellence and compassion highly regarded throughout Africa.
Currently, the hospital has 281 in-patient beds and serves approximately 120,000 outpatients per year. Surgery is a major focus area for the Hospital, and it performs more than 10,000 surgeries annually, and is the second busiest surgical centre in Kenya.
Caring for children is a critical component of the Hospital's compassionate mission. The Hospital provides outpatient care to 25,000 children annually, of which almost 30% are malnourished. More than 13,000 immunizations are provided each year. In 2010, more than 2,000 babies were delivered.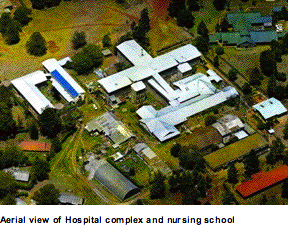 With over 280 surgeries for spina bifida and 790 surgeries for hydrocephalus performed each year, Kijabe Hospital has the largest volume of surgeries for these poverty-related conditions worldwide.
Training is a strategic priority at AIC Kijabe Hospital, and the staff has a keen awareness that they are building and discipling future compassionate health care leaders. As a result of this significant training emphasis, 10 of the hospital's senior-level consultants are Christian Kenyan physicians and surgeons. Many others have been trained and now serve their communities across Kenya and in a number of other African countries. Current training at the Hospital includes postgraduate programs in Orthopedic Surgery, General Surgery, Pediatric Surgery, Neurosurgery, and Family Medicine.
Ann's perspective on living in Kenya:
There is such a lot to be said for having a sense of belonging, where you understand social cues, can join in the banter, and where one can expect that most of the unwritten social constructs make sense…for the most part.
Living in Kijabe has demanded that we relinquish control of our expectations regarding how things should work. Daily routine takes on a whole new meaning. There are no supermarkets in the village, rather a small "duka" or shop, which sells the essential items such as oil, sugar, flour, soap and canned goods. Beside this is the "butcher," which commonly displays bloody carcasses hanging from a hook in the ceiling. Across the road is the market, which sells all sorts of fresh fruit and vegetables, our favorite being jumbo sized avocadoes, juicy pineapples and mangoes. In the market sit a dozen vendors each selling their goods. You do your best to buy from each of them to avoid hard feelings. On return home, there begins the arduous task of bleaching each item in preparation for dinner.
We needed to buy a queen bed for all the visitors we are anticipating! I asked around the village for a recommendation of a "fundi" that could make us one. I was directed to a small timber shop and ten minutes later had ordered a cypress bed frame for $80. After three weeks, I received a call from Joshua to say that the bed was finally ready for collection. It took some time to make but it is one of the most beautifully crafted pieces of furniture that we have ever owned! We arrived at the timber shop to see it completely assembled outside. After inspection and words of affirmation it was disassembled and loaded up onto the roof of our car, after which we brought it home, reassembled it only to find out that we couldn't fit it up the stairs! We resorted to using a saw.
It is a common saying in these parts that "Westerners have watches and Africans have time." The pace of life here is slow and relaxed, which makes a lovely change to the frantic pace of what we just left behind. There simply is no hurry here and yet things always have a way of working out. Yesterday, we had a painter come to our home to paint a couple of the rooms. He travelled almost three hours to get here by Matatu (local bus) and arrived dressed to the nines in a suit and dress shirt. I saw no evidence of a painter in him. I asked him if he had paintbrushes to which he replied that they were in another house in the village. We drove to get them and when we got back home he stated that he needed paint thinner. Back into the car we got and drove to the hardware.
Once home again he said that we really did require putty for fixing the holes in the walls. Yet another trip to the hardware store ensued. Four hours had passed from the time he had arrived to the time he started painting. His work, however, is impeccable! He uses no dust covers, no fancy gadgets, and yet there is not a splash of unwanted paint to be seen anywhere! Things really do have a way of working out when you choose to take a deep breath and go with the flow.
Some days here are filled with such a sense of belonging and being right in the center of God's will. The kids love their new school, the weather is warm and balmy (when the rains stay away), our house here feels like a home, we have met wonderful people and feel as if we are already part of a community, and we are both filled with an incredible sense of purpose being here.
And then there are days when life is quite simply, difficult – when learning the language becomes an insurmountable chore, when our home is invaded by venomous "Nairobi Eye" beetles, when one of the kids says that Kenya is not the place for him/her, when we have an upset stomach for the umpteenth time, when our son's blood sugars are out of control, when the need here is completely and utterly overwhelming. It is at times like these when all we can do is fall to our knees and say, "God, help!" The swinging from one extreme to the other can be emotionally draining and yet the pendulum continues its course. God, are we really cut out for this life here? Can we really be effective in what we are doing to alleviate suffering and make a difference? Can it be that you chose "us" to be your instruments of peace and love in this place? We are weak. We are lacking in faith. We are not equipped enough for the task at hand. And yet, as we cry out, "God, help!" His grace abounds, our joy is made complete in Him, and we face another day in His power and mercy.
God has already put before me many opportunities to use my gifts and experience here. I cannot begin to imagine what that is going to look like exactly but I trust that He will pave the way for me. During this time of transition, I am clinging to the following words by Elizabeth Elliot: "It is not our level of spirituality that we can depend upon. It is God and nothing less than God, for the work is God's and the call is God's and everything is summoned by Him and to His purposes – the whole scene, the whole mess, the whole package – our bravery and our cowardice, our love and our selfishness, our strengths and our weaknesses."
God, help.
Mike's Perspective on Moving to Kijabe
The move to long term foreign missions has involved so many facets, so many steps, that it's hard to know where to begin. It's strange being "one of those people" who had a "normal life" and are now doing something different. I always thought this sort of thing was for other people. But years ago, God's quiet whisper began to make itself heard over the static of my "normal life." The more I listened to that whisper, the louder it became, until eventually it became deafening to the point of being impossible to ignore. There's never the right time, or good time, or easy time, to just surrender your will to God's. At some point, Ann and I realized, individually and as a couple, that our lives, though fine, "Christian", and inoffensive to anyone, were just not aligned with God's plan for us. Though it was a little scary and a lot of work, abandoning our "normal life" for the adventure that has awaited us.
When you're wearing gloves, you're insulated. You don't feel the cold, you don't feel the heat, you won't get cut, but you also can't play the piano or feel the softness of a baby's skin. Moving to Africa has removed the gloves. Daily, I'm exposed to the most hilarious, disgusting, kind, cynical, gentle, violent, inspiring and heartbreaking people and situations I can imagine. Last week, I left my iPhone in the locker room at the hospital. A man found it and returned it to me. That phone cost more than his house. Later that day, I took care of a woman who was the sole survivor of ten people in a matatu (share taxi) crash whose driver was probably drunk. Moments where I feel like I'm in the throne room of God, everything is shalom, amazing, followed immediately by devastating callousness and suffering.
As Ann mentioned, our missionary training taught us a very important phrase: "God Help." There are so many times when I'm completely out of my element, my language training is pathetically inadequate, I don't know what to do culturally, and all I can do is cry "God help." And He always answers. I feel like I literally rely on manna, on my daily bread from God, to get by. When you're secure in your life, you don't need to rely on God, and it's easy to keep Him safely locked away until Sunday or the doctor gives you bad news. For me, the greatest thing about our move is that all the crutches have been kicked away, and I get to hobble down the road leaning on Christ. I'm sure a lot of people don't need to move to a foreign country to have this kind of intimacy with God, but I think He understood my addiction to comfort and things and found a way to help me "take off the gloves."
The work at the hospital is hard but very rewarding. The orthopedic department functions at a very high level, and patients are treated kindly, so people come from a wide area to be taken care of. Patients travel for days to get here from all parts of Kenya, Somalia, Southern Sudan, and DR Congo. The suffering is hard to imagine. In the US, if you break your femur or ankle, you're in a hospital receiving morphine within minutes to hours, and having your fracture repaired urgently. Some of these patients have had to wait weeks, with an unstable broken leg, and no pain medications, bouncing over rutted roads for hours on end to get to Kijabe. Even after arriving at the hospital, they may have to wait for 6 hours or more to be seen. It's a busy place.
My job here is to be part of training a new generation of Kenyan orthopedic surgeons. Kijabe has the first orthopedic surgery training program in Kenya, and I'm privileged to work with an amazingly intelligent, hard working, and kind group of orthopedic surgery residents and consultants. The residents are selected both for their academic excellence and their walk with Christ. Each patient is prayed for before undergoing surgery, and each receives a level of care similar to what one would expect in a good hospital in the US. I'm on a steep learning curve, becoming re-acquainted with conditions I haven't seen since my residency, and some things that aren't even published in books. At this point, I feel more like a student than a teacher. The senior orthopedic surgeon at Kijabe is returning in December to his home district after more than a decade here, so I'm trying to get up to speed as quickly as possible.
Overall, we feel amazingly blessed as a family. We take great comfort in remembering the large group of people supporting us with prayer, and we look forward to reuniting with our friends at some point in the future. For the moment, though, we feel like we're exactly where God wants us to be, and that brings us a peace that makes all the inconveniences seem trivial.
If you would like to follow the Mara's work and adventures in Kenya, check out their blog: http://marasafari.org/